Curriculum Intent
Students arriving in Reception at Grimsdyke School to begin their educational journey have:
A variety of home languages and language experience
An inquisitive nature and an innate curiosity
A variety of levels of support from parents, carers and their wider community
Creativity, energy and individualism
A range of cultural experiences
Pre-school education from a range of settings …or none
Early self- regulation and independence skills
On leaving Grimsdyke School, they will be prepared for the next stage of their educational journey with/ being:
Confidence in themselves as individuals and as learners
Articulate and able to communicate effectively
Advanced basic skills to apply to their learning
Age appropriate knowledge, understanding and skills for further academic study of the full range of curriculum subjects
Able to think critically, analyse situations and solve problems
A positive attitude to challenge and change
Co-operative in a range of contexts and for a range of purposes
Able to keep themselves safe and manage their own physical and mental well-being
Ambitious, motivated and hopeful for the future
A set of strong values (British Values) including respect, tolerance, compassion and inclusivity
A clear sense of their own place and agency within the wider community
To achieve these outcomes, our curriculum at Grimsdyke School is underpinned by 5 key driving principles (SCORE):
1. Self-development
2. Citizenship
3. Opportunity
4. Respect
5. Enrichment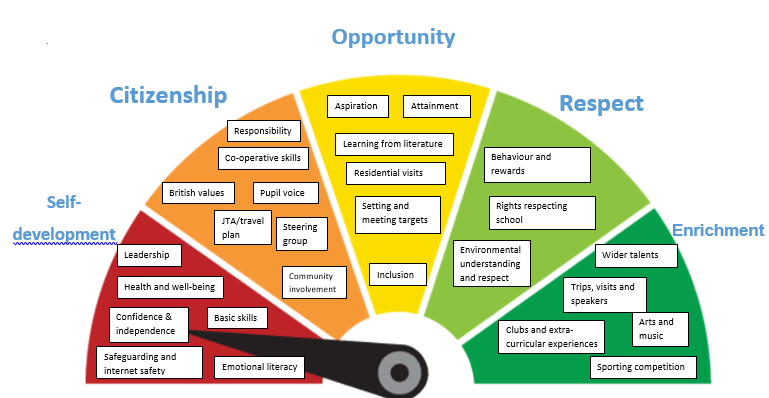 Our curriculum design combines a clear progression of knowledge to be learned alongside a series of skills that students develop. It sees these two aspects of learning as mutually reinforcing.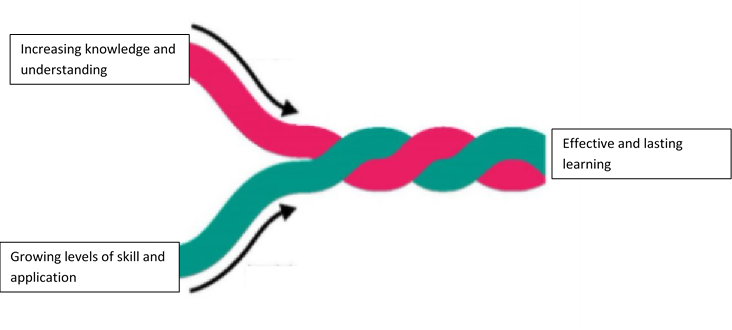 For example:
In maths

Knowledge and understanding - the students learn and understand number values, facts and relationships such as greater and smaller
Skills and application – the students learn how to calculate with numbers and apply their problem solving skills to real life situations

In history

Knowledge and understanding – students learn about the Anglo-Saxons, when they arrived in England and what life was like at that time
Skills and application – the students use first hand sources including images, documents and maps to explore where evidence of the Anglo-Saxon presence can still be found for example in place names
There are also some key themes that are interweaved through our curriculum design and planning. These include:
The Rights Respecting School
Diversity and Inclusion
Narrative learning theory
Use of 'Wise Interventions' as part of quality first teaching such as growth mind set and metacognition
Our Curriculum Context and Cultural Capital:
Grimsdyke School serves the community in its immediate area of Hatch End in the London borough of Harrow as well as families who live in neighbouring areas of the borough such as Pinner and the southernmost fringes of Hertfordshire in Carpenters Park and the Oxhey district of Watford. This means that the school is fully representative of modern multi-cultural Britain.
Our curriculum seeks to ensure that the diverse nature of our community is represented in the content and resources used to deliver lessons. Staff select texts, authors, artists and famous people to study that have links to our locality or members of our community as well as representing traditional British values and culture.
We also build into both our curriculum design and wider inclusion agenda the need to ensure that all students at Grimsdyke School have access to those wider cultural experiences that will enable them to develop as well-rounded individuals. Through this work we plan to ensure and monitor that students are not disadvantaged in comparison to their peers through family circumstance or as a result of any protected characteristic (e.g. ethnic, religion, gender) or special educational need. Students are all supported to take part in trips and residential visits. We have a programme of visits and school based experiences which enrich curriculum provision for all. Our sports programme gives all students the opportunity to take part in competitive sport as well as sporting activity as part of a healthy lifestyle. We also have a range of opportunities open to all to experience the arts in a wider context through learning to play music, being part of a musical ensemble or enjoying live music and performance.
We are also aware that many, although not all, of the students Grimsdyke School will have limited experience of some of the challenges that the wider community of Harrow can present. Yet on leaving Grimsdyke, many students will join secondary schools with peers who have had more exposure to these issues and so perhaps could be more equipped to deal with them. This includes being aware of issues around social media use and abuse, gang and knife crime, drug use and abuse as well as ways in which young people can be exploited. As part of our curriculum provision, in particular through PSHE and our work on safeguarding, we plan lessons, experiences and build in the opportunity for reflection or discussion that will help to ensure our students have an awareness of how to manage their own safety in relation to these challenges so that they are well-equipped for transition to secondary school.
In this way our curriculum at Grimsdyke School is designed to reflect our intent as well as the school's mission statement of 'Learning and Achieving Together.'
If you want to know more about our approach to curriculum design and planning – please read the full explanation by downloading our Curriculum Intent Statement.
Further Curriculum Information – please view the attachments below to find out more: