Attendance
Grimsdyke is an outstanding school and we recognise the importance of regular attendance as a key factor in our pupils' achievement. It is therefore essential that parents work in partnership with the school and understand that term time holidays have a detrimental effect on their children's education.
School times are: 8.45am (when registration begins) - 3.20pm (collection and dismissal)
The school gates open to children at 8.30am and will shut promptly at 8.45am. Students arriving after this point will need to enter via the school office.

Greater attention is now paid to overall absence by the Department for Education and by Ofsted. Therefore, unless there are exceptional circumstances, we do not authorise any term time absences. In order for absences to be authorised, parents will be asked to provide appropriate information in a timely manner. Requested information could be e.g. invitations, proof of relationship to the child, flight details or bookings. All of this will need to be submitted alongside the "Exceptional Leave Form" which can be obtained from the School Office or in the forms section of this website.
Research shows that poor attendance at school can have a marked effect on pupils performance and, as a result, their life choices. The overall picture may hide the real impact of absence from school on individual children.
Please also note that leave of absence during the school term is not permitted and will therefore be marked as unauthorised. This could lead to fines issued by the Council. All request's for leave must be submitted to the Headteacher in writing by completing a form obtained from the school office.
If your child is unwell and will be absent from school, please email attendance@grimsdyke.harrow.sch.uk informing us with reasons for absence.
Should your child be absent for 5 days or more, a sick note from your GP will be required.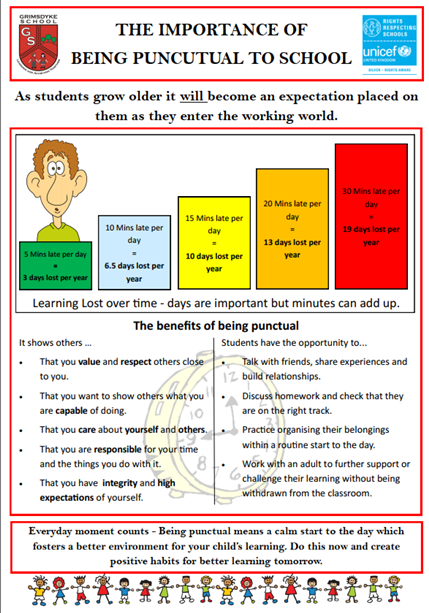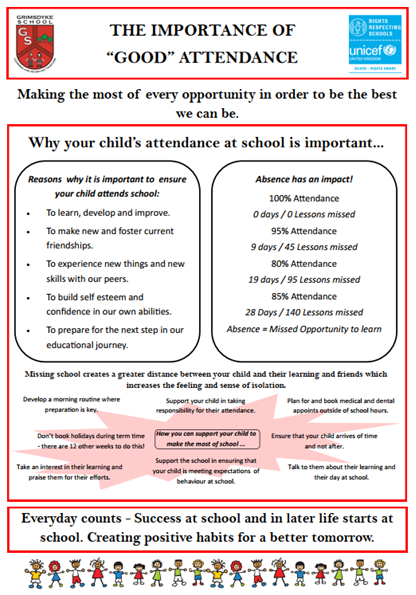 Awards
Attendance "Teddies" are awarded every half term to the class with the highest attendance figures as a signal to the classes that these students are making the most of their right to an education by being in school on time.
In addition to this we also award "Attendance Owls" weekly in assembly to classes with no late marks. Lateness affects all children in the class, not just the child who comes in late. We therefore regularly remind parents how important it is for their children to start the day in a calm and relaxed manner by arriving in plenty of time.
For more information, please use the link to read the school's Attendance Policy or visit the policies section of this website.